Free Koia Plant Powered Protein Shake Sample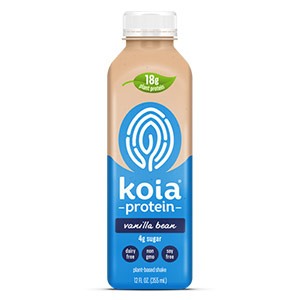 Talking about protein in sports nutrition we are concerned about quality. And since you desire to follow healthy diet, it's very important, how a protein supplement was made. The guys who stand behind Koia made researches to define how people managed to live a long live in various regions and figured out that their nutrition was based on the plant proteins.
Today you have a chance to order a Koia Plant Powered Protein Shake sample for free. Follow the link below to get on the Koia official website and complete the survey. Once you've done, they will send you a coupon redeemable at your local grocery store that carries Koia.
Previous freebie: Free Issue Of Ideal-Living Magazine
Next freebie: Free Makeup Professional Liquid Foundation
In order to request Free Koia Plant Powered Protein Shake Sample, all you need to do is just click "Get FREEBIE", and you will see the free offer opened in a new tab. Next, you will get to the official page of Koia, the company/brand, which is responsible for the free offer. BRUIT is in no way responsible for free samples & stuff presented on the Koia website. BRUIT only provides links to freebies provided by Koia. If you have some questions regarding Free Koia Plant Powered Protein Shake Sample, please contact Koia for further details. Browse the "Free Protein And Supplement Samples" category if you want to discover more free samples, or explore the parent category — "Free Food And Drink Samples."
Category: Free Food And Drink Samples, Free Protein And Supplement Samples
Related Freebies