Free Exederm Baby Eczema Cream & Lotion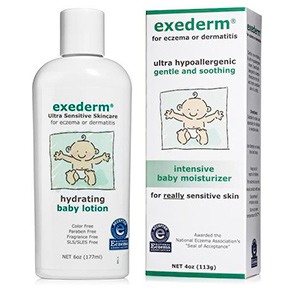 It's extremely difficult to deal with eczema, especially, if we're talking about your baby. As a rule, any remedies are costly. However, we would like to present to you Exederm, the remedy which is designed to prevent eczema and dermatitis.
Besides, you can order a sample of Exederm Baby Eczema Cream & Lotion for free. To do that, just follow the link below and submit the form. Please note that due to high demand the delivery could take up to one or even two months. Hurry since too many people want to try Exederm.
Previous freebie: Free Copy Of Miles Kimball Catalog
Next freebie: Free Cigars International Catalog
In order to request Free Exederm Baby Eczema Cream & Lotion, all you need to do is just click "Get FREEBIE", and you will see the free offer opened in a new tab. Next, you will get to the official page of Bentlin Products LLC, the company/brand, which is responsible for the free offer. BRUIT is in no way responsible for free samples & stuff presented on the Bentlin Products LLC website. BRUIT only provides links to freebies provided by Bentlin Products LLC. If you have some questions regarding Free Exederm Baby Eczema Cream & Lotion, please contact Bentlin Products LLC for further details. Browse the "Free Baby Samples" category if you want to discover more free samples, or explore the parent category — "Free Health And Hygiene Samples."
Category: Free Health And Hygiene Samples, Free Baby Samples
Related Freebies