Free Force Factor Supplement Sample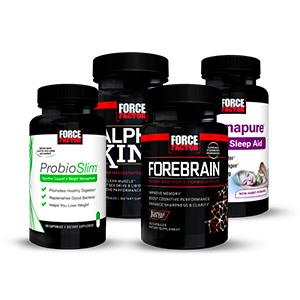 Would you like to improve cognitive performance or boost your vitality? Is your goal to receive the most of your training? In such a case, you require nutrition supplements. And no doubt you should use only premium quality products, isn't it?
Fortunately, thanks to BzzAgent, you have a chance to order Force Factor supplements for free. Please note that you must have a Facebook account to join the sampling program. Follow the link below to apply!
Previous freebie: Free Gatorade Gx Bottle
Next freebie: Free GenePro Protein Sample
In order to request Free Force Factor Supplement Sample, all you need to do is just click "Get FREEBIE", and you will see the free offer opened in a new tab. Next, you will get to the official page of Force Factor, LLC, the company/brand, which is responsible for the free offer. BRUIT is in no way responsible for free samples & stuff presented on the Force Factor, LLC website. BRUIT only provides links to freebies provided by Force Factor, LLC. If you have some questions regarding Free Force Factor Supplement Sample, please contact Force Factor, LLC for further details. Browse the "Free Protein And Supplement Samples" category if you want to discover more free samples.
Category: Free Protein And Supplement Samples
Related Freebies