Free Collagile Pet Bioactive Collagen Peptides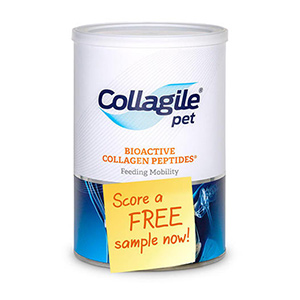 No doubt you'd like to see your pet joyful and happy. But when it limps or is lame, you suffer along with your pet. Let us present Collagile, a supplement that supports cartilages, muscles, bones, ligaments, and tendons. Would you like to learn how this remedy may affect your pet?
Order a free sample. Follow the link below and you'll get to a Facebook page. Send a message to request your free sample. Read the comments first. It seems that Collagile really works! We wish a good like to you and your pet.
Previous freebie: Free Phytorelief Herbal Immune Supplement
Next freebie: Free Tatcha Rice Wash
In order to request Free Collagile Pet Bioactive Collagen Peptides, all you need to do is just click "Get FREEBIE", and you will see the free offer opened in a new tab. Next, you will get to the official page of Collagile Inc, the company/brand, which is responsible for the free offer. BRUIT is in no way responsible for free samples & stuff presented on the Collagile Inc website. BRUIT only provides links to freebies provided by Collagile Inc. If you have some questions regarding Free Collagile Pet Bioactive Collagen Peptides, please contact Collagile Inc for further details. Browse the "Free Cat And Dog Food Samples" category if you want to discover more free samples, or explore the parent category — "Free Stuff And Samples UK."
Category: Free Stuff And Samples UK, Free Cat And Dog Food Samples
Related Freebies