Free Pel-Freez Recipe Book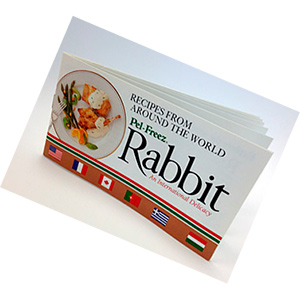 Would you like to cook a rabbit properly? Why not ask a professional? Have you ever heard about Herman Pelphrey who owns Pel-Freez? If you take a look at his company's history, which is traced since 1911, you would likely discover that he is the one who knows the most about how to cook a rabbit.
Fortunately, Pel-Freez is ready to share with you professional cooking ideas. Moreover, today you have a chance to order a Pel-Freez Rabbit recipe book for free. All you need to do is only to follow the link below and complete the form at the Pel-Freez official website.
Previous freebie: Free FFS NHS Razor
Next freebie: Free Copy Of Seattle Met Magazine
In order to request Free Pel-Freez Recipe Book, all you need to do is just click "Get FREEBIE", and you will see the free offer opened in a new tab. Next, you will get to the official page of Pel-Freez, LLC., the company/brand, which is responsible for the free offer. BRUIT is in no way responsible for free samples & stuff presented on the Pel-Freez, LLC. website. BRUIT only provides links to freebies provided by Pel-Freez, LLC.. If you have some questions regarding Free Pel-Freez Recipe Book, please contact Pel-Freez, LLC. for further details. Browse the "Free Books" category if you want to discover more free stuff, or explore the parent category — "Free Catalogs And Magazines."
Category: Free Catalogs And Magazines, Free Books
Related Freebies