Free Talley / Commscope T-Shirt Giveaway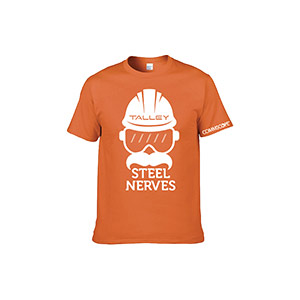 Don't miss a chance to win a free T-Shirt provided by Talley / CommScope titled "STEEL NERVES." Enter to win. The winner will be announced on February 24th, 2020. Only twenty five lucky guys will receive the free T-Shirt. If you want to participate, please follow the link below to visit the Talley Inc. official website.
You will see a form on the right if you browse the page on your desktop device. Or scroll down the page until you see the form on your mobile device. Fill in the form and you will have a chance to participate. If you were lucky, you will receive the free Talley / CommScope T-Shirt in the mail. Good luck!
Previous freebie: Free Heartland Yoga T-Shirt
Next freebie: Free Make Science Great Again T-Shirt
In order to request Free Talley / Commscope T-Shirt Giveaway, all you need to do is just click "Get FREEBIE", and you will see the free offer opened in a new tab. Next, you will get to the official page of Talley Inc., the company/brand, which is responsible for the free offer. BRUIT is in no way responsible for free samples & stuff presented on the Talley Inc. website. BRUIT only provides links to freebies provided by Talley Inc.. If you have some questions regarding Free Talley / Commscope T-Shirt Giveaway, please contact Talley Inc. for further details. Browse the "Free T Shirts" category if you want to discover more free stuff, or explore the parent category — "Free Clothes."
Category: Free Clothes, Free T Shirts
Related Freebies