Free Gerber Oat Milk Smoothie At Free Osk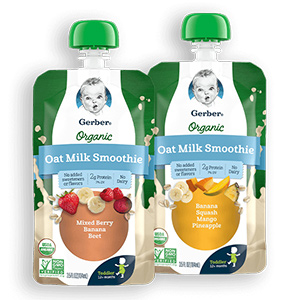 As a mom, you control your kid's diet. While talking about a toddler, his health deepening on your choice, isn't it? Don't miss a chance to grab a free sample of Gerber Oat Milk Smoothie available in the FreeOsk located at select Sam's Club stores.
You can't receive this free sample by mail. However, you can grab it by visiting the nearby store. FreeOsk has over 1,300 kiosks in various stores, such as Walmart, Sam's Club, etc. Just follow the link below and find your store.
Previous freebie: Free Smart&Sexy Lace Trim Bikini Panty
Next freebie: Free Kolcraft Bassinet For Product Testers
In order to request Free Gerber Oat Milk Smoothie At Free Osk, all you need to do is just click "Get FREEBIE", and you will see the free offer opened in a new tab. Next, you will get to the official page of Freeosk Inc, the company/brand, which is responsible for the free offer. BRUIT is in no way responsible for free samples & stuff presented on the Freeosk Inc website. BRUIT only provides links to freebies provided by Freeosk Inc. If you have some questions regarding Free Gerber Oat Milk Smoothie At Free Osk, please contact Freeosk Inc for further details. Browse the "Free Baby Formula Samples" category if you want to discover more free samples, or explore the parent category — "Free Baby Samples."
Category: Free Baby Samples, Free Baby Formula Samples
Related Freebies