Free Pur-Go: Vanilla Whey Protein Powder Sachet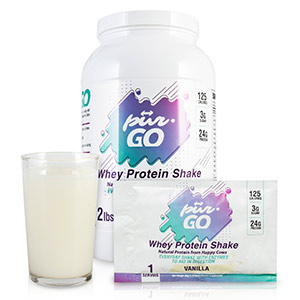 If you follow the sports way of life you no doubt would like to eat not only healthy, but also tasty food. And of course, the same relates to supplements. While making their Vanilla Whey Protein Powder, Pur-Go was taking care of taste first of all. So the vanilla shake made of the Pur-Go whey protein must be not only healthy but also tasty as you like.
To claim your free samples, please follow the link below to visit the Pur-Go official website. Click/tap the "Add To Cart" button and proceed to checkout. Please note that shipping fees may be applied in the next steps.
Previous freebie: Free 1-Year Subscription To CBS Watch! Magazine
Next freebie: Free Te Mana Skincare Samples
In order to request Free Pur-Go: Vanilla Whey Protein Powder Sachet, all you need to do is just click "Get FREEBIE", and you will see the free offer opened in a new tab. Next, you will get to the official page of Pur-Go Brands, the company/brand, which is responsible for the free offer. BRUIT is in no way responsible for free samples & stuff presented on the Pur-Go Brands website. BRUIT only provides links to freebies provided by Pur-Go Brands. If you have some questions regarding Free Pur-Go: Vanilla Whey Protein Powder Sachet, please contact Pur-Go Brands for further details. Browse the "Free Protein And Supplement Samples" category if you want to discover more free samples, or explore the parent category — "Free Food And Drink Samples."
Category: Free Food And Drink Samples, Free Protein And Supplement Samples
Related Freebies