Free Imuneti Plus Elderberry Gummies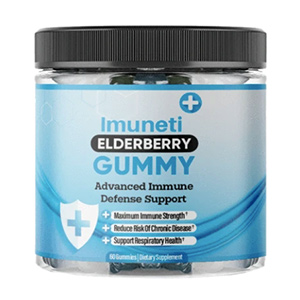 When it comes to your health, you will never risk. No doubt you would like to protect your body against various illnesses. The natural way to do it, it's to increase your immunity. Take advantage of this free offer if you want to make your immune system better. Besides, you can do it in a tasty way. Follow the link below and visit the official Imuneti Plus website. Order Elderberry Gummies at no cost. Your body deserves extra protection. Fill in the form and receive free samples of Imuneti Plus Elderberry Gummies by mail.
Previous freebie: Free CDB Restoring Facial Oil
Next freebie: Free Day & Night Cream, Eye Serum & Facial Oil Trio Set
In order to request Free Imuneti Plus Elderberry Gummies, all you need to do is just click "Get FREEBIE", and you will see the free offer opened in a new tab. Next, you will get to the official page of Imuneti Plus, the company/brand, which is responsible for the free offer. BRUIT is in no way responsible for free samples & stuff presented on the Imuneti Plus website. BRUIT only provides links to freebies provided by Imuneti Plus. If you have some questions regarding Free Imuneti Plus Elderberry Gummies, please contact Imuneti Plus for further details. Browse the "Free Health And Hygiene Samples" category if you want to discover more free samples.
Category: Free Health And Hygiene Samples
Related Freebies