Free Salonpas Gel-Patch Sample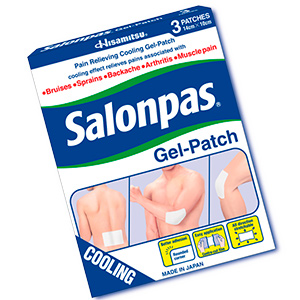 What could be better than pain relief? If you feel pain in your back, sense sprains, or muscular pain after a workout, you no doubt would like to get rid of these symptoms. Let us introduce Salonpas, a Gel-Patch produced by Hisamitsu.
Don't miss your chance to try it out at no cost. Follow the link below and you will get to the official Hisamitsu UK website, where you will see a submission form. Fill in the form to claim your free samples, and the package of Salonpas® Gel-Patch samples will be shipped to your address.
Previous freebie: Free Sample Of Balneum Dry Skin And Itch Relief Cream
Next freebie: Free Villa Borghesi Coffee Sample
In order to request Free Salonpas Gel-Patch Sample, all you need to do is just click "Get FREEBIE", and you will see the free offer opened in a new tab. Next, you will get to the official page of Hisamitsu UK, the company/brand, which is responsible for the free offer. BRUIT is in no way responsible for free samples & stuff presented on the Hisamitsu UK website. BRUIT only provides links to freebies provided by Hisamitsu UK. If you have some questions regarding Free Salonpas Gel-Patch Sample, please contact Hisamitsu UK for further details. Browse the "Free Health And Hygiene Samples" category if you want to discover more free samples, or explore the parent category — "Free Stuff And Samples UK."
Category: Free Stuff And Samples UK, Free Health And Hygiene Samples
Related Freebies