Free Thrivent 2021 Calendar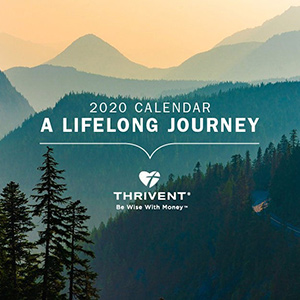 Would you like to pre-order a 2021 wall calendar right now? Don't miss a chance to be among those who receive a brand new 2021 Thrivent wall calendar. They accept applications until June 30, 2020, so hurry!
By the way, you might order a 2020 calendar as well, if you need it. Follow the link below and fill in the form at the official Thrivent website to claim your 2021 wall calendar. If you require a 2020 calendar, read the instructions. You will have to send them an email with a code or call them 800-847-4836 and say "Fraternal."
Previous freebie: Free Copy Of Natural Life Catalog
Next freebie: Free STORIES By Eliza Grace Fragrance
In order to request Free Thrivent 2021 Calendar, all you need to do is just click "Get FREEBIE", and you will see the free offer opened in a new tab. Next, you will get to the official page of Thrivent, the company/brand, which is responsible for the free offer. BRUIT is in no way responsible for free samples & stuff presented on the Thrivent website. BRUIT only provides links to freebies provided by Thrivent. If you have some questions regarding Free Thrivent 2021 Calendar, please contact Thrivent for further details. Browse the "Free Calendars" category if you want to discover more free stuff, or explore the parent category — "Free Catalogs And Magazines."
Category: Free Catalogs And Magazines, Free Calendars
Related Freebies