Free Lands' End Print Catalog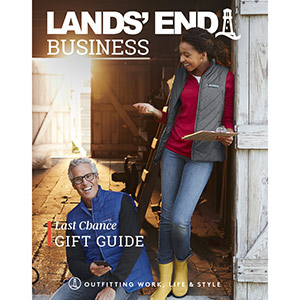 Lands' End was founded in 1963, in Chicago, by Gary Comer and his four friends. The company specializes in casual clothing, luggage, and home furnishings. If you know the brand or just want to learn more about its products, you no doubt would like to receive a free hard copy of the Lands' End catalog.
To order a print copy, please follow the link below and you will get to a special page on the Lands' End official website. Scroll down the page until you see the headline "Request A Print Catalog." Select as many catalogs as you wish and click the button "Send Catalogs."
Previous freebie: Free JTM Three Bean Chili Sample
Next freebie: Free Clothing Samples For Mukzin Brand Ambassadors
In order to request Free Lands' End Print Catalog, all you need to do is just click "Get FREEBIE", and you will see the free offer opened in a new tab. Next, you will get to the official page of Lands' End, the company/brand, which is responsible for the free offer. BRUIT is in no way responsible for free samples & stuff presented on the Lands' End website. BRUIT only provides links to freebies provided by Lands' End. If you have some questions regarding Free Lands' End Print Catalog, please contact Lands' End for further details. Browse the "Free Catalogs" category if you want to discover more free stuff, or explore the parent category — "Free Catalogs And Magazines."
Category: Free Catalogs And Magazines, Free Catalogs
Related Freebies