Free Whimsical Wolf Sticker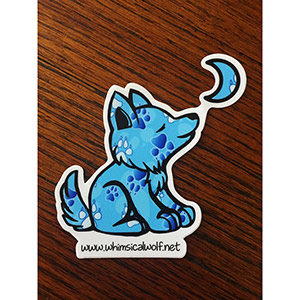 Whimsical Wolf is the company which produces shirts that are not only to wear since every shirt sold helps to protect and preserve the wolf species. If you support such an idea you no doubt would be happy to receive a free sticker with a whimsical wolf on it.
To claim your free sticker, please follow the link to visit a contact page on the Whimsical Wolf official website. Scroll down the page until you see a form. Fill in the form and click the "Submit" button. And the free sticker will be sent to your shipping address in the mail.
Previous freebie: Free McGruff Safe Kids Id Kit
Next freebie: Free Vitamedmd Prenatal Vitamins (Professionals Only)
In order to request Free Whimsical Wolf Sticker, all you need to do is just click "Get FREEBIE", and you will see the free offer opened in a new tab. Next, you will get to the official page of Whimsical Wolf, the company/brand, which is responsible for the free offer. BRUIT is in no way responsible for free samples & stuff presented on the Whimsical Wolf website. BRUIT only provides links to freebies provided by Whimsical Wolf. If you have some questions regarding Free Whimsical Wolf Sticker, please contact Whimsical Wolf for further details. Browse the "Free Stickers" category if you want to discover more free stuff.
Category: Free Stickers
Related Freebies