Free Annie's Sun's Out, Buns Out Sticker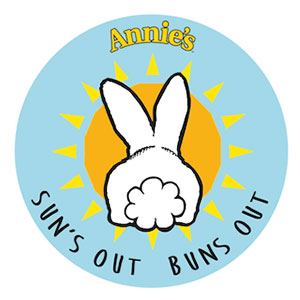 Annie's is going to spread the world information about organic food. The company has invented a tricky way to do that. They are giving away free stickers with a bunny on it which is happy to be alive.
To claim your free sticker please fill out the form on Annie's Homegrown official website. You can choose among these stickers:
Organic for Everybunny Sticker
Don't Panic, It's Organic Sticker
Cheddar Bunny Sticker
Sun's Out, Buns Out Sticker
Recycle -- No Butts About It Sticker
Previous freebie: Free Moose Tracks Nation Sticker
Next freebie: Free 2-year subscription To Money Magazine
In order to request Free Annie's Sun's Out, Buns Out Sticker, all you need to do is just click "Get FREEBIE", and you will see the free offer opened in a new tab. Next, you will get to the official page of Annie's Homegrown, the company/brand, which is responsible for the free offer. BRUIT is in no way responsible for free samples & stuff presented on the Annie's Homegrown website. BRUIT only provides links to freebies provided by Annie's Homegrown. If you have some questions regarding Free Annie's Sun's Out, Buns Out Sticker, please contact Annie's Homegrown for further details. Browse the "Free Stickers" category if you want to discover more free stuff.
Category: Free Stickers
Related Freebies