Free Billionaires Can't Buy Me Sticker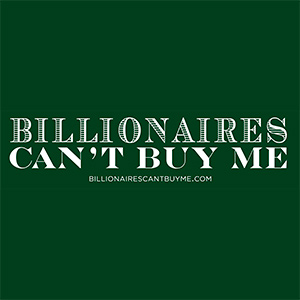 The guys who stands behind the Democracy For America movement are sure that they may affect the upcoming president election. They don't want that billionaires rule the country. That's why the movement issues stickers titled "Billionaires Can't Buy Me."
No matter whether you want to support the movement or not, you have a chance to receive a free sticker. Follow the link below and you will discover a form titled "TAKE ACTION." Fill out the form and the free sticker will be sent to you in the mail.
Previous freebie: Free Dabbly Sunny Offense Gummies
Next freebie: Free Pair Of Astley Clarke Pearl Earrings For Winners
In order to request Free Billionaires Can't Buy Me Sticker, all you need to do is just click "Get FREEBIE", and you will see the free offer opened in a new tab. Next, you will get to the official page of Democracy For America, the company/brand, which is responsible for the free offer. BRUIT is in no way responsible for free samples & stuff presented on the Democracy For America website. BRUIT only provides links to freebies provided by Democracy For America. If you have some questions regarding Free Billionaires Can't Buy Me Sticker, please contact Democracy For America for further details. Browse the "Free Stickers" category if you want to discover more free stuff.
Category: Free Stickers
Related Freebies