Free Punisher Skateboards Stickers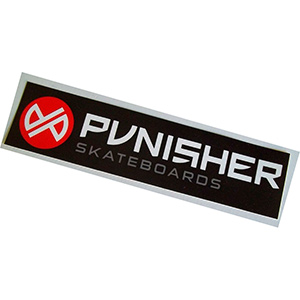 As a skateboarder you no doubt would like to emphasize your individuality. Of course, you know about Punisher Skateboards, the coolest skateboarding company. Did you know that the company print own stickers and spread among fans?
Would you like to receive Punisher Skateboards Stickers at no cost? Follow the link below to visit the official Punisher Skateboards website. You will see a form on a special page. Fill out the form and the Punisher Skateboards Stickers will be delivered right to your doorstep.
Previous freebie: Free ZYR Vodka T-Shirt And 2 Moscow Mule Mugs
Next freebie: Free Mmmint Tin 36 Bubble Sample
In order to request Free Punisher Skateboards Stickers, all you need to do is just click "Get FREEBIE", and you will see the free offer opened in a new tab. Next, you will get to the official page of Punisher Skateboards, the company/brand, which is responsible for the free offer. BRUIT is in no way responsible for free samples & stuff presented on the Punisher Skateboards website. BRUIT only provides links to freebies provided by Punisher Skateboards. If you have some questions regarding Free Punisher Skateboards Stickers, please contact Punisher Skateboards for further details. Browse the "Free Stickers" category if you want to discover more free stuff.
Category: Free Stickers
Related Freebies