Free Hard Copy Of Wayfair Catalog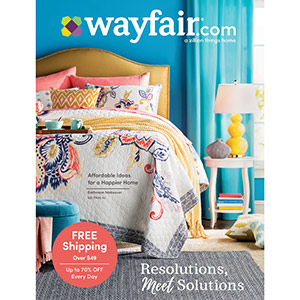 If your passion is home decor, you no doubt heard about Wayfair, the company which allows you to choose among the 14 million items across home furnishings, décor, home improvement, housewares and more.
And of course Wayfair has a catalog. If you want to receive a free hard copy of the Wayfair catalog in the mail, please follow the link below to visit the Wayfair official website. Complete the form to join the Wayfair mailing list and wait for the catalog is sent to your shipping address in the mail.
Previous freebie: Free Codex Beauty Bia Collection Special Skincare Sample
Next freebie: Free National Geographic Society Catalog
In order to request Free Hard Copy Of Wayfair Catalog, all you need to do is just click "Get FREEBIE", and you will see the free offer opened in a new tab. Next, you will get to the official page of Wayfair LLC, the company/brand, which is responsible for the free offer. BRUIT is in no way responsible for free samples & stuff presented on the Wayfair LLC website. BRUIT only provides links to freebies provided by Wayfair LLC. If you have some questions regarding Free Hard Copy Of Wayfair Catalog, please contact Wayfair LLC for further details. Browse the "Free Catalogs" category if you want to discover more free stuff, or explore the parent category — "Free Catalogs And Magazines."
Category: Free Catalogs And Magazines, Free Catalogs
Related Freebies